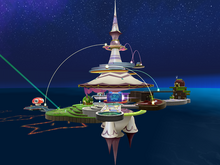 The Face-Space Mansion (Famous Comet Observatory in PAL regions) is the first mansion to explore in Luigi's Mansion 9: Boo Mario Strikes.
Description
Edit
US: Hmmm, this place looks familiar. Anyhoo, your brother passed by here!
PAL: Your Observatory from SMG is here. Mario passed by, so go find him, posthaste!
Missions
Edit
Appearance
Edit
The Face-Space's domes look small, but look expanded inside. a doll rests in the bedroom, along with a broom. the Kitchen has Special Punchers who play with kitchen utensils. The fountain's streams go into a black hole, as the inside has a haunted water fountain. You fight Ghostalina in the Garden which has a battle arena in a black void surrounded by floating shrubs that Ghostalina attacks you with.